Cash For Vans Sydney
Stressing out about having to get your van repaired or sold?
Let's show you how it can be done differently!
At Scrap cars removal we offer top cash for vans any make or model and condition. Avoid the hassle of getting it repaired instead, sell your van for cash instantly on 0432 022 021
Think about it! If you have to get your old van repaired every month, isn't it a better option to sell it off?  You can sell your van to a good car removal company in Sydney like Cash for Cars. We are the best car removal company in Sydney and we pay up to $8,999 cash for cars, vans, Utes, trucks, SUVs and more.
Just give us a simply call, and you will experience the easiest way to sell van for cash in Sydney.
We offer:
Cash For Old Van
Cash For Scrap Van
Cash For Unwanted Van
Cash For Used Van
Cash For Damaged Van
Cash For Junk Vans
and much more! We'll your van any make or model and condition.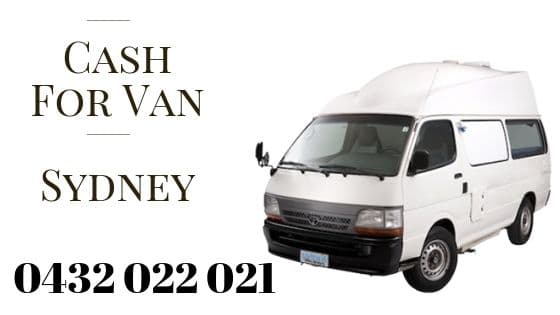 Get Cash for Van in Sydney Today UpTo $8999
We can buy your old van for instant cash, immediately. Isn't that a bonus? All we need is your information with respect to the van. We pay you up to $8,999 according to the condition of your van. We also ask you about the details of the make and the model of your van to help us assess your vehicle.
We will then assess the amount that should be paid to you for your van and give you the final quote. You have the complete freedom to accept or reject this quote.
We do not charge you for the price of this quote made to you and you may or may not accept it! Just give us a call and find out how much cash you can get for your old van!
Want to Sell Your Scrap Van? Just a Call Away – Cash for Cars Sydney
Whether it's a scrap car or a scrap van, we at Cash for Cars are ready to buy it! Just give us a call and get a free quote from us. You will need to call on 0432 022 021 TO GET THE BEST PRICE FOR YOUR OLD VAN.
Our experts are extremely well-trained and will be able to give you the best price possible for your van over just a phone call. After getting to know a little bit about your location and your car, we will just make an appointment with you and we will come to you!
You can fill-up the form on the top corner of this page to contact us! Give us a chance to serve you and have a world-class experience. Any vans that need to be scrapped can be sold to us throughout Sydney and its suburbs.
Benefits of Choosing

Cash for Cars

to Sell Your Van in Sydney
Cash for Cars has a brilliant team that is dedicated to ensuring our customers are treated the best. Our vision is to empower the customers in a way that they mention as an example of exemplary service. Our customer base is spread across Sydney and its suburbs.
Most of the business that we get throughout the weeks is through referrals because our customers highly appreciate the quality of services provided to them by us.
As one of the other fringe benefits, we also pick your van up for free. Yes! It's free of cost. We also take care of all the paperwork that is required to be done in the entire procedure.  Cash for Cars is one of the most sought-after unwanted car removal services in Sydney. We will give you the best price for your vans and take away all your worries about selling your van or getting it repaired.
Don't wait anymore, just give us a quick call and have a chat with our customer service executive on 0432 022 021
Scrap Cars Removal! Call – 0432 022 021 Get a Quote Now
What is the process of selling my van?
When you have an old unwanted car sitting at your home or in your garage door in your backyard, it could become annoying in a few days.  Where do you go to sell your car to a private buyer,  it is worth it to think of other options are available for hassle-free selling off your car.
The process of Scrap Car Removals is very easy and will meet you want to sell your car even more! Our customer care executives are top-notch, highly trained automobile enthusiast that will make sure to cater to your problems.  In case you have any problems regarding your old unwanted or damaged van,  give us a call right now and we will help you figure it out.
Step by Step Guide to Van Removals
The process begins when you decide to sell your vehicle to us,  and give us a call order number. You can also send us an inquiry on our online quote form.
Once we have your details through the online quote form,  our customer care executive will give you an immediate call with an instant cash quote.  This cash quote is free of cost for all our customers and is given on call.
Our online vehicle evaluation system is based 'online', which means that nobody will come to your house to inspect your vehicle,  and will only take all the details of your van on call or through the form.
If you wish to accept this quote or reject this quote,  you can do it freely because the decision and the choice is in your hands!
The Most Hassle-Free Service for Your Van in Sydney
Scrap Car Removals is a company that does not want to create any hassle or inconvenience for you why you try to sell your van in Sydney. Take your time to accept the quote,  and then give us your location details as you will give you a free pick up for your old van,  doesn't matter where you are.  Our van removal specialists are available in every suburb of Sydney city ready to serve you and your van.
Now that you have given us your location and we are ready for your pickup,  you need to make sure that you have an ID proof of yours ready.
We will provide you with the paperwork services as well for the purpose of selling your car, van, ute, SUV, 4WD, truck or more.  You will also need to be ready with the keys of the vehicle that you are trying to sell to Scrap Car Removals.
Once that our driver has approached the location of the pickup of your scrap vehicle,  they will give you a call half an hour in advance.
This is done to get a confirmation from you about the pickup, and to get the location of your vehicle right.
All these services and more are available to you at Scrap Car Removals
One of the most important features of our van wrecking service is that it is available throughout the year, every day. Whether it is a Sunday or Monday,
our car removal experts are available to you. We know how important your schedule is for you,  and we did not want to disrupt it,  or cause any inconvenience to you!
Not only this but our van removal services are available to all suburbs in Sydney with equal excellence and efficiency. The reason for our expertise is our high level of training before the recruitment process for all our van removal experts.
Get in touch with one of our van removal experts right now,  and get the best deal for your old van in Sydney! We not only deal with old vans but also with damaged vans, scrap vans, junk vans, second-hand vans, old vans or accidental vans. Irrespective of its condition,  scrap car removal is ready to buy your van,  within 24 hours!
Vehicle removal in Sydney from the most reliable van removal services 
You can get in touch with us to sell your van to us right now,  or you can book an appointment for your vehicle removal in Sydney from the most reliable van removal services in town.  Our technicians will give you the booking of your choice,   and our drivers give you the most comfortable and convenient van removal service.
You will not even have to move a single limb in order to get rid of your van in Sydney,  isn't that great?
Do not hesitate to get in touch with our removal services in Sydney whenever you think it is time to sell your van.
You can get instant cash for your van up to $8,999 in Sydney when you get in touch with our executives and accept their offer! Hurry and book your spot today,
and get yourself the quickest vehicle removal service in Sydney for the best price –  You will get all of these services for FREE and FAST! Call us NOW.