Get The Most Cash For Your Old Car Today
Easiest & Quickest Steps to get instant cash for cars in Sydney ( 3 Easy steps)
Do you want to sell your old car for cash in Sydney with same day collection? Then give Scrap Cars Removal a call today for best price on your car. We buy all makes and models regardless of the condition, you can still expect to get highest money.
Call us now at: 0432 022 021 or submit an "online inquiry" to get a free quote.
Have you completely given up on trying to sell an old car that refuses to leave your backyard? Don't think about it anymore! Scrap cars Removal is here to make sure that we take care of your old car within 24 hours!
We are a premium car removal service in Sydney that doubles up as a car buyer as well. We have the most optimized staff that has years of experience in the automobile industry.
They will treat you as the first priority as that's what our mission is. We want to provide you with the best car removal service where you do not have to suffer any hassles.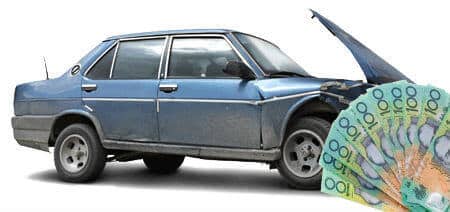 We'll Buy Your Old Car For Cash Instantly
Not only will our company offer you a free pickup of your car, but we will also make sure that you receive a completely free of cost car valuation. This free quote that you will be getting on your old vehicle in Sydney is given to you within a minute of your call to us.
You have to give us some important and necessary details about your vehicle after which our customer care executive will give you a quote instantly, and without invading your privacy.
How? It's simple! We do all of our assessments online, without having to physically inspect your vehicle.
Junk cars, damaged cars, old cars, second-hand cars, and more types of vehicle removals are conducted in the scrap car facility of Scrap Car Removals. Free car removals are the most popular service in Sydney which makes car buying a regular job for us.
Whether you have a car, truck van or ute doesn't matter to us. As car wreckers and professional car buyers, we offer to pay cash for cars with top-dollar quotes instantly.
We Service:
If your car is broken down and can no longer be used, We buy it for instant cash.
If your old car is unregistered or cannot be road worthy, We buy it for cash today.
If your vehicle is damaged on every panel, We buy it for cash.
We buy old vehicles any body type make or model.
Scrap Car Removal offers up to $8,999 for cars that is not road worthy or costs too much for repair. We are Sydney's top Cash for car service provider that pays instant cash during the removal. When you have an old car it often breaks down or new problems arises that will cost a lot of money and time to fix, This is where you need to use our service for exchanging your car for cash. Your car can be rusted, damaged or simply not running and by calling us you can get rid of your unwanted car headache. Your car can be from any year made? That's no problem for us you can still expect to get top dollar with same day service.
The reason why we can buy your car for top dollar is because we also have a car wrecking department that will dismantle the vehicle and the parts will be used for other purposes.
Why Choose us to Sell Your Old Car
Our old car removal service also includes buying your:
Unwanted cars
Scrap cars
unregistered cars
Damaged cars
Used cars
and much more any make or model.
Provide some information about your car such as make, model, year, condition, mileage and condition, We will quickly come up with a free valuation within minute. When using our service you can benefit from saving more money rather then spending and working long hours to fix your car. The first reason why choose us is that we pay up to $8,999 cash for old cars and provide FREE removal from your premises in any suburb is Sydney. We buy your old car regardless of the make and model and the condition.
We get you:
Guaranteed top cash for your old car
Same day removal
Cash For Old Truck, Van, Ute, 4WD, SUV, Bus and more
All Sydney areas
Why Fix When You Sell Your Old Car For Cash
You can exchange it with for cash by calling us. We remove your car regardless of where the location is or how long it will take to remove it (no job is hard for us). By choosing us you can be ensured that you will receive service and maximum amount of money on the spot.
Our friendly removal team will complete FREE paperwork that will help you to cancel the registration.
As soon as the removal team arrives for the pick up be assured all your headache is gone, They're friendly, professionals and makes sure the job is completed before they leave and lastly we guarantee 100% satisfaction.
We specialise in unwanted car removals, (Sydney and its suburbs) along with paying cash for old cars. Our cash quotes are regarded as the topmost in all of Sydney! Our offers will amaze you as they go up to $8999 for all types of vehicles in Sydney, irrespective of the make, model and condition of the vehicle.
Our company has specialist teams in each and every suburb of Sydney, be it the southern beaches or North Sydney, we will buy your old car immediately.
Another important feature about Scrap Car Removals in Sydney is that we do not have a policy of discriminating locations. This means that you can be living wherever, in any suburb in Sydney, and we will pick your car up for free. 
Get Free Quote Now!
Why wait give us a call today and enjoy a hassle free service. We can provide free quote over the phone or submit an online enquiry.
You can call us directly on:0432 022 021
or submit an online enquiry form and we will be in touch soon.