Car Disposal Sydney
If your car is old and has been sitting in your garage for many years now, then it's time you give us a call. We are Scrap Car Removals and we buy old, unwanted cars in Sydney for cash. We also offer car disposal services throughout Sydney while paying up to $8999 upfront to the customer all over Sydney.
When you choose us for vehicle removal services, you will love the fact that you need not pay anything to us! Instead, we pay you for your car, truck, van, utes or SUV. The car recycling process enables us to sell your car after a transformation of your car has taken place. We pay cash for scrap cars because it becomes the raw material that we can further use. Scrap metal is an infinite source that we get out of parts from vehicles in all conditions. The parts under the hood can always be cleaned & reused, & the chassis of the vehicle can undergo the car recycling process to create new steel for new cars or other tools.
There's no reason for this scrap to be thrown away when it's perfectly useful, which leads to zero waste, and that's never bad!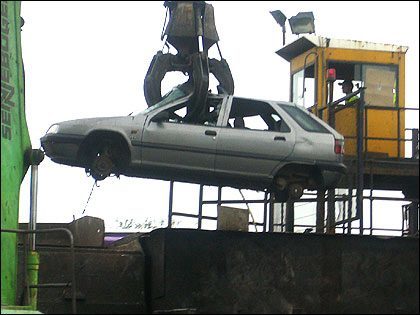 Damaged Car Disposal in Sydney
By availing our car disposal service, you can choose to do better. Better for yourself, better for the environment and undoubtedly better for your bank balance. You are eligible to receive 100% free services that come with 100% satisfaction from a clear space. We're dedicated to working around your schedule so that the car removal process can take place at a time that is convenient for you. Our staff is trained in the latest technology & hardware to assist you with your car removal in Sydney. We will remove your unwanted cars as soon as possible according to your schedule and convenience.
We'll take your unwanted vehicle off your hands quickly & effortlessly so that it's no longer a burden to you & your yard! We don't like our customers to wait at all. We understand how inconvenient unwanted cars can be, so our car removal company delivers speedy service according to that. Delivery of unwanted car removal in a timely manner is performed to ensure that we serve more customers as efficiently as possible.
To us, the make, the model or the number of vehicles you want to sell does not matter at all. We guarantee to take care of all of them for you, absolutely free of charge.
Cash for Cars: Sydney Wide Old Car Buyers
There's no waiting in queue for a cheque, and there's no need for repeated calls because you haven't gotten your cheque yet. We pay instant cash for every single vehicle that is purchased by us. There are no towing fees either, so you stand to benefit the most from our car removal services.
Don't let your unwanted cars hamper your space. While they continue to remain on your property without a purpose, you don't realize the value that you're losing by not selling it. They can be put to optimal use again after the transformative experience of recycling. Instead of remaining an eyesore, you can donate a new life to this old car, while getting paid for it, too. Regain your yard space & call our car removal services today.
We offer free removal of junk cars, unwanted cars and scrap cars disposal services within 24 hours of your call to us. Moreover, we make top cash offers for cars with a provision of free towing away services for all vehicles. At the time of pick-up, our driver will pay you the amount in cash. You will also receive a company receipt which will have all the details of the company that will
If you want to get rid of the vehicle that gives you more trouble than it helps you, you are welcome to call us on 0432 022 021
You can also get in touch with us by sending us an online inquiry on our website.