Cash For Cars & Car Removal Campbelltown
We offer top "cash for cars in Campbelltown" areas along with free car removal service. We come to you with the offer of "cash for cars in Campbelltown" in the whole region along with free car removal service. Any vehicle type and any make or model is welcome – promising you a hassle-free car buyer service with no headaches.
You can sell your unwanted vehicle in any condition Up to $8,999. Owning a car is a matter of great convenience. However, a car that is junk is not much of a help when it can't even drive. Scrap Cars Removal can help you in this regard with its quick and speedy service of removing cars from your property.
Located in Campbelltown, we can come to you no matter where you are located in the region. You might be a resident of Blair Athol or Airds, or may have a car stranded somewhere in Bradbury or Denham Court or Gilead, our experts can help you at any time of the day. Furthermore, we offer top cash for cars to the sellers that impress them to suggest our service to their acquaintances as well.
Get A Free Quote: 0432 022 021 or submit online form.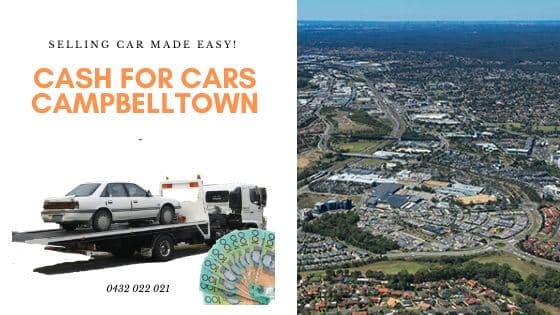 Sell Your Unwanted Old Scrap Cars For Cash Instantly
Being a registered entity, we ensure an ethical progression of work that is devoid of any type of illegal activity. When dealing with us, you must know that your personal details and those of your car will remain safe with us.
Since we are fully insured, you can rest assured that you are rendered completely free of any responsibility in case of an auto accident and a resultant lawsuit. It is easier than ever to cash for cars in Campbelltown.
you can rely on us for offering:
Cash For Unwanted Cars
Cash For Old Cars
Cash For Scrap Cars
Cash For Damaged Cars
Unwanted Car Removal
Old Car Removal
Free Car Removal and Cash For Cars Campbelltown
Have you dealt with a car dealer before us? Have you been dumbfounded by the cash offered? Have you been charged? In that case, it is time you approach us. We not only bring you a free-of-cost selling experience but also offer a well-paying package of $8,999 instant cash for cars.
We understand that as a car owner you still want to get its full value even though it is an old car or a junk car and that is why we offer you top cash for your vehicle. We never stop improving our services, including our offers, service efficiency, management techniques and quality controls to increase the capabilities of our team and increase customer satisfaction.
The professional and human quality of our people especially highlights us, so we hire and retain only the personnel in the car removal industry, who are constantly trained, working in an environment that offers a permanent challenge to improve and grow.
Our rich experience allows us to speak the same language as our clients and understand their needs easily and quickly. Our knowledge extends from car removal, car valuation, towing services, car recycling and many more. This solid base of knowledge added to the experience helps us save valuable time for our clients and at the same time offer a suitable solution for each specific situation.
Avail Our Same Day Service
Our car removal service is designed in such a manner that it enables you to sell your vehicle right on the day you call us. When we reach the address you give us, the only thing we check is whether the car has wheels and engine or not. When we have ensured the above-mentioned, we ask for the documents to verify the make and the model. If you cannot furnish us with appropriate paperwork, there is no need to get anxious. We offer documentation to speed up the selling process.
Our experts will readily buy any vehicle, be it a ute, sedan, 4WD, truck or van. We don't require you to clean your car upon our arrival as it is not a necessity, we can buy cars in any condition. It may be damaged from an accident, maybe old or scrap, we will not make you feel wanting for better or quicker service. Contact us and get cash for cars Campbelltown.
Do you stay in Claymore, Woodbine, Ruse or Raby? We will be able to take away cars from any of these places and cause the least bit of hassle in the process. Get in touch with us to get the details about our procedure and book our car removal service. We give you our word for an honest and sincere car removal service. Get the cash for your car now and save up towards your new car.
Why Choose us
Reliability
Customer focused
Satisfaction
Hassle Free
Top Cash For Cars Sydney Wide
We Buy Cars From:
Airds
Ambarvale
Blair Athol
Blairmount
Bow Bowing
Bradbury
Campbelltown
Claymore
Denham Court
Eagle Vale
Englorie Park
Eschol Park
Glen Alpine
Glenfield
Ingleburn
Kearns
Kentlyn
Leumeah
Long Point
Macquarie Fields
Macquarie Links
Menangle Park
Minto
Raby
Rosemeadow
Ruse
St Andrews
St Helens Park
Varroville
Wedderburn
Woodbine