Sell Cars with Mechanical Issues
When it comes to cars with a mechanical fault, the root of the problem could be anything. For every car that needs a new battery, there's one with complete engine failure. That means repair costs can run into several thousands. In fact, we've seen cars with repair costs as high as $10,000, especially with foreign imports such as BMWs and Audi. So, what choices do you have when faced with a costly repair bill?
At Scrap Car Removals we can help you avoid expensive repair bills by providing you with cash for your car with mechanical issues. We offer a simple, straightforward and completely transparent service that will give you a fair price for your car based on our expert industry knowledge. Using us means you don't have to worry about paying out for repairs. Instead you can simply put the money you receive from us towards a new vehicle.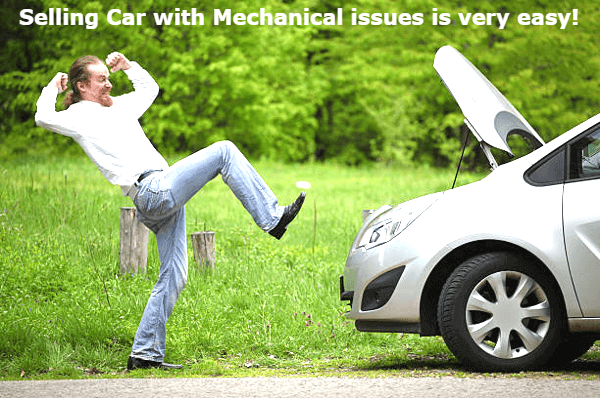 No need to find a buyer
If you've searched for ways to 'sell my car with mechanical issues', you'll know just how hard it can be to find a buyer willing to take on the repair themselves. That's where we come in. We've helped thousands of car owners receive cash for their cars with mechanical issues. Not only that, but because we're experts in the field and have extensive experience of purchasing all sorts of cars with mechanical failure, we can ensure you get a fair price, which you may not get if you choose to sell your car privately.
Quick cash for your car
By choosing Sydney's number one car buyer to purchase your faulty car, you can stop asking yourself 'where can I sell my car with mechanical issues'. Using us to buy your car means you don't have to go to the depot. All you have to do is get in contact with our team, tell us when you'd like us to come and pick your car up and we'll be there, ready with your cash.
Any type of fault
It doesn't matter what type of fault or engine problem your car has, our vehicles with mechanical issues buying service will purchase it from you. Remember, quite often the cost of repairs can be thousands of dollars, so if you're looking to avoid an expensive bill, be sure to give us a call. Our service is simple, quick, transparent and is a great way to ensure you receive cash for your car.
How it works
All you have to do in order to sell a car with mechanical issues is to contact us at Scrap Cars Removals either by calling our knowledgeable and friendly team: 0432 022 021 or by submitting an online inquiry. The service is ideal if you've just received a high quote for repair work or you don't want to go through the hassle of advertising your car yourself with no guarantee that a buyer will materialize. Once you've removed your personal belongings from the vehicle, we'll be on hand to hand you cash for your car which you could put towards a brand-new motor.