Scrap Cars Sydney Best Car Scrapper
Best Wrecker of Unwanted, Scrap Cars with Up To $8999 Cash
At Scrap Cars Removal Sydney, we buy all unwanted, damaged and scrap car, in exchange for instant cash. Our reliable services cover all areas in Sydney and our professionals will arrive at your destination to relieve you of your unused or scrap car. We buy vehicles of all makes and models, including cars, vans, trucks and SUVs. Our cash for cars service is always here to buy your unwanted vehicle for top cash same day.
Contact us on: 0432 022 021 or Submit online enquiry.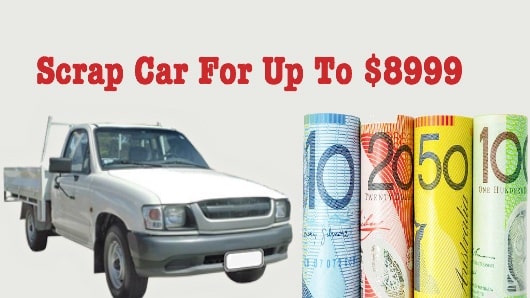 We Remove Scrap Vehicle from Your Property Same Day
We are one of the most illustrious vehicle removal service providers in Sydney and offer instant service to our valued customers. If you have any old vehicle which is beyond repair, give us a call. Our professionals will arrive at your desired location within an hour, on the same day.
Our professionals will safely pickup your car from your premise, without any hassle. Our pickup service is free and in return for your car, we will provide you up to $8,999 in cash.
We Arrange Pickup according to the Preferences of Our Customers
Scrap Cars Removal is a very flexible car removing and buying company providing top priority to our customers. We generally arrive at a pickup location within 1 hour, but the pickup time can be arranged according to your convenience, as well. You can also decide upon the pickup location, as per your preferences.
Our Car Removal Services are Stress-free and Quick
If you are in possession of a scrap car and wondering what to do with it, we can buy it and offer you a good price for it, maybe even more than what it is worth. Additionally, we complete all paperwork and payment instantly to render you free from all worries.
It is quite troublesome to sell an old car and sometimes, the car might be so damaged that it has no selling value. Whether it is registered or unregistered, with or without title, damaged, running or not running, you can completely rely on our services. Our professionals will make sure that you do not go through any trouble, while getting rid of your old and used vehicle.
The Size of the Vehicle is Not a Problem for Us
We buy vehicles of all sizes – cars to mini vans to SUVS and trucks. Our professionals are experts at towing away vehicles safely from any location. Contact us to get a quote for the vehicle you are hoping to get rid of.
Are you looking to sell your scrap car for highest amount of cash? Give us a call, as we are the leading buyers of unwanted and damaged cars in Sydney.